Display what's for lunch
Include your lunch menu within your web page. Create your lunch menu on a weekly basis or add your lunch menu directly from the app. You can link this menu to the Site Shortcuts for easy referencing.
Using the classic page experience? Check out the More about this app section to add content.
---
Add the Lunch Menu app
Drag the Lunch Menu app onto your page.
Select the purple arrow to expand the panel, giving you more room to work!
Select the

Date

for the menu.
Type the

Menu

text. Include images and style your text as needed. Separate menu options by typing each one its own line.
Select

Save and New

to add more menu items or

Save and Exit

when finished.
Want to add lunch menus quickly?
Add lunch menus directly from the app on page. Select Add to create lunch menus with basic information.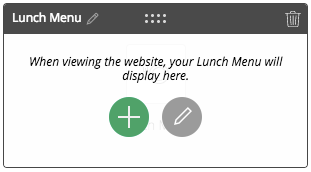 ---
Set additional options
Select

Options.

Type the

App Name

to use as the title.
Type the

Description

, and select

Show the app name on my page

.
Choose the

Display Settings

for the number of posts to list. Select

Display all active app records

or

Display a specific number of active app records

and set the Record Limit.
---
Sharing and social settings
Want to share your content with another group or user? From the Sharing tab, you can choose groups to share your content.
---
Lunch menu user guides
---
More about this app
For classic page experience: